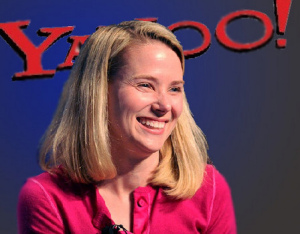 Since this blog only just re-launched roughly 48 hours ago, we're not currently posting comments. That doesn't mean we haven't been receiving them, however  . . . (and fear not – we will be 100% interactive by next week at the latest) Anyhow, since a number of you were interested in hearing more about the brief post from Sunday regarding Yahoo's recent acquisition of Tumblr, I decided that today would be an appropriate time to toss my hat in the ring and add some actual commentary.
While this absolutely should not be construed as investment advice, I like the idea that Yahoo is trying to increase traffic. If their future revenue is (even only partially) tied to advertising income through redefining pictorial search, then the purchase makes sense. Tumblr, by all accounts, has a lot of subscribers and is an exceedingly inventive social networking concept. That said, at present, it doesn't really make much money (relatively speaking), so only time will tell as to whether adding its platform to Yahoo's suite of services (for $1.1 billion) actually benefits shareholders.
What Marissa has demonstrated here is that she can convince the Board and a group of significant investors that her vision is the right vision. This is a corporate leader who clearly can play the executive game. In many ways, she has now officially joined the very short-list of Valley players most aggressively "leaning in." Each of her initial tactical moves have shown true energy and nothing about her performance (so far) suggests any hesitancy to throw an uppercut or two as opposed to feeling her way along, gradually adjusting to a foreign corporate culture, etc. By hook or by crook, her site has added an impressive number of new users (albeit, while spending an equally impressive amount of cash).
So, can Yahoo re-insert itself into the top-tier of money-making web fixtures and become relevant again to end users in such a highly contested space? On that one, it's simply too soon to predict. What I can say with certainty is that Ms. Mayer's CEO honeymoon is officially over. If Tumblr goes south, there's every chance she'll be sitting next to it on the same (tax free . . .) corporate jet.
What's especially interesting to me (and where I hope to learn more), is that I'm not at all sure adding Tumblr subscribers to Yahoo's content-platform/media portal (assuming that's, more or less, how one describes Yahoo these days) can be directly analogized to, say, a bank increasing its number of depositors. Revenue is by no means automatic in these situations – e.g., something comparable to the spread between loans and deposits.
Nevertheless, Marissa has shown an absolute willingness to allocate resources boldly. In one of America's most unforgiving valleys, that's a prerequisite for effective upper level management – let alone the CEO of a company with Yahoo's (potentially) enormous heft. And on that note, I'll throw the key question back to you: Is she more Steve Jobs or John Sculley? (I'll leave Ballmer, Sergey and Larry out of this one . . .)
Meanwhile take a look at this intriguing profile of Tumblr founder, David Karp, in yesterday's Economic Times: "Tumblr's David Karp: Another school dropout who struck it rich before turning 30."