And (below) some local knowledge of Merion (which, btw, is now in the crosshairs of . . . THE DERECHO)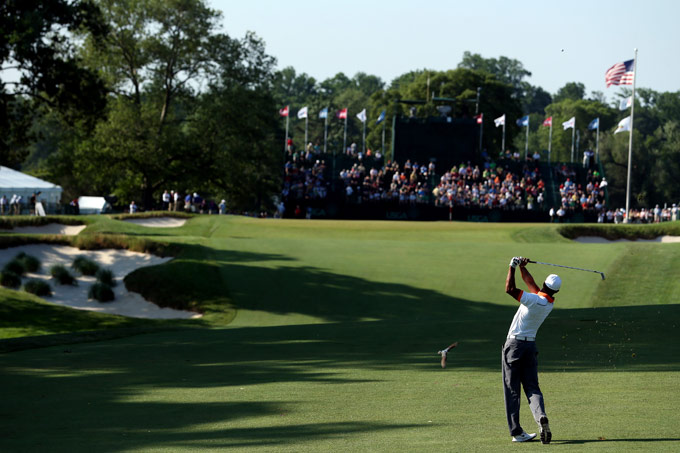 Picking a winner is silly. The only smart bet is Tiger Woods v. the Field and the betting man in me says: TAKE THE FIELD.
Here, Tiger's biggest current weakness is reduced (his driver) AND his biggest current strength (best course management ever) is highlighted. Question: Is his putter hot enough to finish the job?  I'd be surprised if he isn't at least in the top 10.
However, here are some other guys that I think could do really well . . . 
Matteo Manessero – young, on his game, great putter, and lack of length not as big an issue on the 6900 yd Merion
Kevin Chappell/Michael Thompson – grinders who do well in US Opens, ala Lee Janzen and Steve Jones
Kevin Streelman/Joe Ogilvie – both Duke guys who have won on Tour (Steels this year) – I have to pick them
Ernie Els – Experienced, playing with the house's money after last year's Open win and loves tough, shot makers' courses.
Adam Scott – It's all coming together and now with a Masters Jacket in the closet . . . He could go on a huge tear.
Angel Cabrera – He only shows up for majors – his huge non-driver length is a big plus – especially late and in contention  – AND he's nicknamed "El Pato"
Sergio Garcia-  I think this may be Sergio's last stand but he's certainly got a real shot . . .
Guys that I think may have problems getting to the weekend. . .
Rory McIlroy – he's playing better than his stats suggest, but the US Open will expose the current inconsistency in his swing
Louis Oustheizen – I think he has the best swing on tour, but his short game sometimes evaporates at the wrong time – not good here.
Steve Stricker – knows this is probably his last, best shot and it is his tee game that may hold him back . . .
Lee Westwood- One of the best ballstikers on tour – he should be around on the weekend, but the putter may sting him again.
Matt Kuchar – playing great, but something tells me that this isn't his week (and his flat swing scares me with left to right shots)
Phil Mickelson- not enough sleep combined with trying too hard and a loose tee game all adds up to a quick flight back.
For an awesome insider's perspective on Merion, see the link below.
["Take insider's tour of Open course with longtime Merion member," Golf.com, 6/12/2013]