Does writing a book really constitute being an entrepreneur? Damn right it does . . .
One of my partners in crime recently published his first novel. I couldn't be happier to report back that its a terrific gangster story and classic pulp in the best sense of the word. For anyone who wants to dive headfirst into the into the uncut rush of grit, grime, glamour and debauchery that defined the non-Gatsby Jazz Age, MacCauley has granted your wish.
I don't say this idly either. With some of my friends' works, I too often find myself gritting my teeth. Books written by people you otherwise genuinely like – and especially novels – can indeed be taxing. I always find myself wanting to be fair and read the whole thing . . . whether I actually want to or not.  While I'll admit to having always been a huge crime genre aficionado, in some ways that's exactly what makes me even more nervous when someone I actually know chooses to step into such challenging territory. Thankfully – NOT AN ISSUE HERE. "Prohibition" leaps out of its gate and never stops surging. Put simply, MacCauley can write.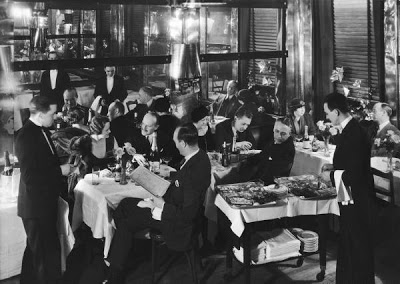 The noble anti-hero Terry Quinn is precisely the type of character I most look forward to discovering between the covers of any good gangster tale. He's an ex-boxer (also a plus for me) whose loyalty to his weakening boss, Archie Doyle, commands respect throughout New York. His fealty, of course, also puts him in danger as Doyle's iron grasp over the City is challenged and new pretenders to the throne emerge. Terry's dysfunctional relationship with a highly intriguing woman further winds through the plot and ultimately imposes difficult choices. The crescendo builds as Terry is forced to concoct a last ditch effort to save his once great yet crumbling organization – now suddenly under attack from virtually every nefarious demon that once roamed the streets during an age when America stood at the precipitous tipping point between Great Depression and illicit opulence.
MacCauley drops his reader into a sprawling urban landscape: an environment obviously informed by extensive historical research of the neighborhoods and politics as they were then, but with enough reminders that New York City, even today, remains a domain of shadows and seduction. Personally, I ripped through this book in two days. This just isn't a story that ever throttles down.
MacCauley's facility with dialogue is particularly striking – especially for a first novel.  Much in the same way that "Miller's Crossing" transports the viewer into something that feels more like an actual lifestyle than any mere time or place, "Prohibition" plants the reader smack in the midst of genuinely sordid surroundings – but sordid in the best sort of way – you might even feel a tinge of guilt, but clearly, you want to stick around awhile – And hey, why not down a glass or two of bootleg whisky while you're at it? The characters here are all survivors – forged in their own individual cauldrons of hard-scrabble experience – and YES you would want to drink with them (albeit carefully). They're clever and resourceful – if not always strategic long-term thinkers… But then, what could be truer to life? None of this is an easy trick to pull off.
I would love to see a young filmmaker (or even an old filmmaker) get a hold of this book and put it on the silver screen – preferably in black and white. While one occasionally feels reverberations humming from the original "Scarface," "Prohibition's" narrative is 100% its own.
As the Director Spike Lee observed: "Woody Allen has his New York City and I have mine – But they're both New York City." Now MacCauley has his - and its one you'll absolutely want to visit.
This is terrific beach reading, delivers some real literary flare and contains intimations of great things to come. I wish the book great success and look forward to more.
Below are links to MacCauley's blog and to his Amazon site where you can pick up a copy . . .
[http://terrencemccauley.blogspot.com/2012/12/prohibition-is-here.html]