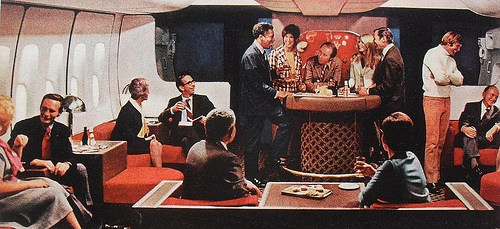 The UK's Telegraph's Travel Section has posted a some great photography illustrating just how significantly the culture of mainstream commercial air travel has changed over the past 50 years. Although this piece focuses more on the "upper end" of the spectrum, it's still striking just how much of an actual "experience" flying once was – something more analogous to a great hotel or an old-school cruise ship.
Sure, for $12,000 a seat, one can still enjoy some exceedingly nice amenities on their way to Singapore or Dubai, but there's no question the romance of flight has gotten lost somewhere along the way. The question is whether today's market (even at the highest end) could still support an airline that made a real effort at restoring just of a little of that "Mad Men Era" glitz and ambience seen in these old photographs.
One argument, of course, is that private jets have crowded out demand at the top of the market but, personally, I'm not sure I buy that. After all, even if you're cruising along on your top-shelf Gulfstream, there's still something to be said for the much more unique experience of sauntering up to a piano bar at 30,000 feet and encountering an alluring stranger . . .
Richard Branson (since I'm sure you read my blog), I'm talking to YOU right now.
["How Air Travel Has Changed," The Daily Telegraph – UK, Travel, 10/24/2013]